About
TEDx

Patras

TEDxPatras is a self-organized standard TEDx event organized in Western Greece. It aims to highlight and promote the idea of TED to the regions's audience.

TEDxPatras focuses on sharing thoughts and valuable experience from the fields of Science, Technology, Education, Entrepreneurship, Sports and Arts. The Talks will be held by people, who realize their dreams, overcome obstacles, surpass themselves, and evolve. Apart from the ideas worth spreading, TEDxPatras intends to trigger discussion and networking through Workshops and Live Broadcasting, that will be conducted in parallel with the main event.

Throughout the whole process of setting up the event, the value of volunteering and team spirit will be promoted, giving an opportunity for locals to be part of the experience of organizing and carrying out a TEDx event.
The Organizing Team
A group of people whose aim is to create experiences that can alter, improve and enhance the way of thinking of both their peers and the society they live in. People who are open to innovative ideas, people who in order to deal with or rise above the challenges they face, dwell their strength from new knowledge and ideas.
Giannis Altanopoulos
Co-Founder & Curator
---
Giannis got his BA in Business Administration at the University of Patras and his Master's Degree at Athens University of Economics & Business in Marketing and Communication. His research interests include Social Entrepreneurship, Startups and Brand Management. Since 2014 is also the Curator and Co-Founder of TEDxPatras, which aims to highlight ideas worth spreading in the region of Western Greece. The same time he is working as a Marketeer and he is actively participating in volunteering activities and initiatives to communicate innovative ideas and science. He loves exploring the nature and listening to music.
Petros Psomas
Co-Curator
---
He studied Computer Science, Journalism and Marketing and after a career at Sales, Trade and Marketing departments of three multinational companies, he now lives in Patras, working as a teacher and as a marketeer. He shares his life between family, friends, work and hobbies and he enjoys creating events and projects, regarding people, places and ideas. He loves working with teams of people who feel the same enthusiasm with him about volunteerism. His first live TED experience was in 2013 and he is a member of the TEDxPatras team from the beginning of this journey, in 2015.
Alexandra Goudis
Speakers' Management
---
Alexandra was born in Manchester. She studied Financial & Business Economics at the University of Essex and she currently lives and works in Patras. She co-curated the first TEDxPatras 2015 'Sea of Voices' and since then she is proud to be part of the TEDxPatras team. Her personality is based on her artistic aptitude and the gene of shyness. She loves nature, travelling, oil painting, choosing oldies music for her radio show, reading books at her favorite café, Italian cuisine, hats and her precious dog.
Elena Chronopoulou
Hospitality
---
Working as a telecom software engineer, Elena bases her work on the power of collaboration between people, saying that "it's nice to celebrate with somebody when something works"! Holding a Master in "Education" field she deeply believes in sharing knowledge, exploring together and learning from each other. Valuing the moments of human interaction, she loves to commit herself to meaningful projects and gets inspired by innovative ideas; self motivated individuals and authentic teams. Thus, she has been involved as a Hospitality manager in the organizing team of TEDxPatras2015, TEDxPatras2016, and this year in TEDxPatras2017, making sure that speakers will enjoy their experience to the maximum! In her spare time, you'll more likely find her enjoying moments in nature, either doing sports or just exploring around with her dog. She loves music, dance, skiing, running, sailing, traveling, and never misses a good glass of red wine.
Vasilis Kalavrouziotis
IT
---
Born in 1987 in Patras. He studied as an undergraduate and postgraduate student at Patras University in Computer Engineering and Informatics Department. Since 2015, he is a PhD student in the same department with an interest in studying and implementing applications using the Internet of things. In 2014 he started his own IT company based in Patras. Since 2016 he is professionally active in Athens. He has collaborated with the Hellenic Academic Libraries Link (HEAL Link) at the National Technical University of Athens and the academic Library of the University of Patras. At the same time, he participates as an active member to volunteer projects and conferences (TEDxPatras, ELAG 2017 etc.). He is interested in innovation in technology in order to make people's daily life easier.
Thanos Zitouniatis
Experience
---
Four things I am grateful for: (1) My son is a better version of me, (2) My best friend is my wife, (3) My friends know me better than I know myself (4) My job is actually my hobby. Most other things are trivial.
Nick Kalavrouziotis
IT
---
My name is Nick, I'm a software engineer, with degree in Computer Engineering and Informatics Dept. I'm a creative thinker, and I strongly believe that limitations live only in our minds! I believe in the power of will as it can change ourselves and by sharing ideas, lifelong learning, and passion we can lead to a better world.
Konstantinos Spiliotopoulos
IT
---
My name is Konstantinos, I am a UX designer specialising in Usability research and Conversion Rate Optimisation. I have a Master's Degree in Information Systems and a Bachelor's Degree in Economics. Tech enthusiast and passionate about great design, I always enjoy a mug of coffee with good friends.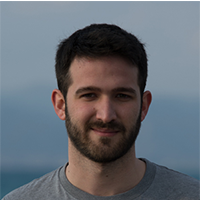 Constantinos Vassiliou
Finance
---
Constantinos holds a degree of accounting from TEIPAT. He works as an assistant accountant at Acoounting & Tax Solutions Ltd for 5 years. The feeling of volunteering started from the Olympic Games Athens 2004.
Dimitrios Kouniakis
Experience
---
I have been a passion driven Educator / English Teacher (TEFL) for over 20 years. My belief is that educators and teachers carry the responsibility to shape children's lives. Fascilitating the learning process and empowering students to shape their own future is what gets me out of bed every morning. I am also a strong advocate of volunteerism.
Adriana Koulieri
Speakers' Coaching
---
Adriana was born in Athens in 1992. She graduated from the Department of Primary Education of the University of Patras and she continues her studies on a postgraduate level (M.Sc.) in Services Management at the Athens University of Economics and Business. From 2012 to 2016 she was a volunteer radio producer and she has been a music columnist since 2013. She splits her time between Patras and Athens, where she is working for a concert promotion and production company. Also, she has been actively involved in Public Speaking events as a core team member and speaker too.
Ilias Karachalios
Experience
---
I am Environmental Manager & Consultant, specialized in Environmental and Energy Issues. I have accomplished Undergraduate Studies at University of Ioannina entitled "Management of Environment & Natural sources". I hold a Masters of Environmental Conservation Management from University of Glamorgan. I am certified educator (secondary education level). I am a PhD candidate and my research focuses on confluences in Environmental Education. In the past, i have collaborated with several enterprises in the environmental & energy sector. Nowadays, I am working as a Project Manager in Cyprus Institute in Nicosia, Cyprus. I am specialized in providing technical consultancy services but also managing environmental projects and I have participated in several European projects focused on Renewable Energy Sources, energy efficiency, energy policies and climate change.
Charis Ntaliani
IT
---
Charis Ntaliani studied at the Department of Computer Engineering and Informatics in Patras and then at the same Department completed her MBA at Computer Science and Technology in 2014. Her professional beginning took place in Sieben, the same year, in the department of the company in Patras where she worked on the development of software for the educational sector. At the same time, on 2015 becomes an active member of the newly formed group of TEDxPatras. On 2016 she starts working at Accenture in Athens and specifically in the OTE group project. Today Charis belongs to the workforce of Printec group where she deals with electronic signatures.
Orestis Varesis
Experience
---
Orestis considers himself a roboticist trying to combine his love for robots and engineering with photography. He holds an integrated BSc and MSc in Electrical Engineering from University of Patras and he has completed his first year of Master studies in Robotics, Systems and Control at ETH Zurich. Orestis worked as an intern in two companies during his bachelor and senior years and as of October 2017 he will work at a vibrant Start-Up Company in Zurich. Apart from the purely academic activities Orestis is an active tennis player and an amateur photographer with an interest in landscapes and street photography. He is also a volunteer in TEDxPatras 2016 and 2017 events mainly on the part of spectator's event experience.
George - Paris Makkas
Logistics
---
I am from Trikala, Greece. I studied at University of Patras, where i got my Diploma as an Electrical and Computer Engineer and i completed my M.Sc. on Green Power and Network Infrastructure. I currently work at the IT Department of Hellenic Dairies S.A. I enjoy meeting new people and working on exciting new projects.
Vassia Saloustrou
Blog Editing
---
Vassia is a 24-year-old linguist, born and bred in Syros (Greece). She is currently living in London to pursue her postgraduate work. She has studied Philology and Linguistics at the University of Patras. She also holds an MA in Language and Cultural Diversity from King's College London. Moreover, she is an alumna of the Center for Hellenic Studies of Harvard University. Given her great interest in linguistic research, she has worked on various research projects on Discourse Analysis, Sociolinguistics, Translation, as well as on Computational Lexicography. She is currently working as a Research Assistant at the University of Kent, as an Online Tutor teaching Greek as a second/foreign language, and as a Freelance Editor. She is passionate about languages and academic research in the field of Sociolinguistics, therefore expecting to commence her PhD journey. Vassia enjoys traveling, reading, and doing Pilates. Theater and art are also essential to a well-lived life for her. As a spring girl, she loves going on road trips, when the fields are white with daisies and roses bloom.
Anthie Krili
Stage Management
---
I am 21 years old student in University of Patras. I 'm studying as an Electrical and Computer Engineer. Since my first year of studies, i have participated as a volunteer in University events and local cultural teams. I was a volunteer in TEDxPatras 2015 and 2016. The idea of such a culturally beneficial event happening in our town is so exciting to me and i am glad that today i can help bring it to life once more. In my free time, i enjoy swimming and water-polo, as i have lived in pools all my life.
Anthoula Mountzouri
IT
---
My name is Anthoula Mountzouri and I am a software engineer, specializing in web development. I have a diploma in Computer Engineering and Informatics and currently, I am a graduate student in Computer Science and Technology, while working as a software developer. Passionate about learning new technological stuff, my main goal is to evolve everyday myself and my knowledge.
Artemis Terzi
Volunteers
---
Artemis was born in 1992 and grew up in the city of Kalavryta where she comes from. She graduated from the department of Computer Engineering & Informatics of the University of Patras. Since 2011, she has been volunteer dance teacher in different classes consisting of people of all ages, in the Dance department of the Municipality of Patras. Last years, she participated as a volunteer in different actions, cultural and scientific , in the city of Patras , such as Patras Innovation Quest and Patras Science Festival where she hold the position of Content Manager. Since last year , she is working as a flight attendant and discovers beautiful places of our world! She loves traveling , reading and taking part in every kind of interesting actions.
Kostas Andreou
Venue
---
Chemical Engineer and entrepreneur
Maria Kontogiannatou
Food Experience
---
"My name is Maria Kontogiannatou, I was born in 1994 in Patra, Greece. I am a newly graduate of department of business administration of agricultural enterprises and food stuffs. During the past years I have immensely involved in volunteering in a number of events, these are cultural and scientific ( TEDx Patras Patras Science Festival). Travelling is something that gives me great pleasure as you get to meet new people, learn about different cultures and customs. Also I enjoy reading and taking part in any sort of activity."
Giannis Koutoulogenis
Logistics
---
I was born in Zakynthos and currently I'm studying Electrical & Computer Engineering at the University of Patras. I like travelling a lot and gaining new experiences, while I love volunteering and what this offers to the society and to ourselves. In my free time I prefer doing team sports, like football, reading literary books or taking some good photos! Through the TEDx events, I believe that someone can be provided with food for thought, from the many inspiring talks, and could be led to take action against the society's problems.
Eleni Kondyli
Delegates Gift Bag
---
From bridge construction to industry, and back to bridge maintenance, daily working life has always meant facing the challenges among deadlines, production, quality and above all safety. This is a mechanical engineer speaking, who's eager to make our way of life easier and stress free. Through travelling, sports, photographs, music and loving friends, daily personal life has also been a challenge of discovering life's mysteries. This is a dreamer speaking, who's been given an opportunity to create amazing moments with beautiful people.
Alexis Pantziaros
Logistics & Experience
---
I'm an Engineer. Every second that I'm trying to recall my childhood I remember myself as a child, which was trying to find with all his passion solutions to any problems around him. Passing the years, I realized that I was obsessed with research and in love with unfamiliar knowledge, so my life became a strange journey. Now I am Ph.D. candidate at University of Patras in the department of chemical engineering, I am working as business consultant and recently with my team we have merge our startup project with a big company in London. Volunteering on TEDx, last year as volunteer and this tear in core team, is the way for me to experience the feeling of giving back to the society. A selfish way to generate dopamine in my body :)
Anna Natsvlishvili
Social Media
---
I am Ann, a computer engineer and I work in the marketing field! I like to deal with creative things, particularly what it has to do with business!
Kostas Lampropoulos
Logistics
---
I am Kostas Lampropoulos and I have been living in Patras, Greece for all my life. I studied Electrical and Computer Engineering at the University of Patras and I received my Diploma degree in 2003 and my PhD in 2012. I worked for 2 years (2003 -2005) as a Firmware Engineer in the WLAN Group of Atmel Hellas, part of Multimedia & Communications Group of Atmel Corporation. I am currently member of the Network Architectures and Management Group of the Electrical and Computer Engineering Department of University of Patras and project manager for EU projects with special focus in Cyber-security and Digital Identities i.e. CIPSEC, SMESEC etc. I have also been member of various standardization bodies like ETSI and ITU-T with contributions in the area of Digital Identities Management and Identity Discovery. In my free time I play basketball, watch movies, listen to music and travel with my family.
Helen Gioti
Logistics
---
Helen has worked in several sales departments and has done secretarial work for many local companies, based in Patras. She has been Volunteer in many activities, in and outside Patras, through groups and companies of mainly cultural interest. This experience brought her in contact and then led her on the path of co-operating with organizations of events and performances. She has worked on a variety of theatrical productions, in cooperation with professionals and amateurs, from all over Greece. Since 2015 she has been working in the theater Epikentro+, as co-ordinating producer, assistant director in adult and children's performances and as a school coordinator. During the Christmas period 2016-2017 she worked for the organization, staffing and coordination departments of the Patras Christmas thematical park "Magical Village".
Giannis Fradelos
Simulcast
---
Civil Engineer, graduated from the University of Patras and recently obtained my Master from Imperial College London. The first close involvement with TEDx Patras was in 2016 when I was enrolled as volunteer. This year, I feel honored being part of the TEDx Patras 2017 core team.
Iasonas Tsolis
Community
---
Civil Engineering undergraduate. Radio Producer and Head of Communications in UP FM – University of Patras Radio since 2014. News editor for some of Patras' print media and radios. Radio presenter and program editor in Hellenic Broadcasting Corporation (E.R.T), journalist and TV host in IONIAN Channel. Born in the city of Epidaurus, he could not but love theatre.
Elena Grammatikopoulou
Advisor
---
Elena Grammatikopoulou was a member of the administration staff of the National Hellenic Research Foundation (NHRF) from almost the first years of its establishment. She was in charge of the NHRF Programme "SCIENCE SOCIETY» for 20 years (1993-2013) and participated in the design, submission and implementation of relevant European projects. From 2005 onwards, she has coordinated numerous related activities ( "Science Festival", "Researchers Night", Hands on experiments for children, etc.), always aiming to increase public awareness on science and research.. Since June 2013, she has been working as a freelancer in the field of science communication. She is a member of the organizational team of Sci-Co Science Festivals and the "HuB Science" programme. Her passion for science communication inspired her to create "Science Reactors", a group of young scientists-actors. Their goal is to introduce science to the large public in an imaginative and humorous way through innovative performances e.g Stand up Science, Science on Stage, etc. giving response to the question how science can be combined with improvisation and comedy. She was former president of the "Magna Graecia" Society and member of the "Association for Establishing the Maria Callas Academy". She has also worked as production manager for a number of historical and scientific documentaries, as well as short films and TV commercials.
Nasos Koskinas
Outdoor Experience
---
I am electrical and computer engineer with MSc at energy & environment. I am the founder of the POS4work, a coworking space which supports startups and young professionals. I believe in Ideas, Education and People.
Stavroula Stasinou
Creative Direction / Design
---
Stavroula Stasinou obtained her B.Des. in Graphic Design School, department of Graphic Design, TEI of Athens, in 2009. Today, she attends a Master of Arts (M.A.), Audiovisual Arts in Digital Age, at the Ionian University aiming to gain full knowledge on interactive design. From 2012 she works at Computer Technology Institute and Press "Diophantus" (CTI), Greece, in the Web Technologies Department,  as a Creative Director and web designer. Her main responsibilities includes, but are not limited to graphic design, wireframes, UX/UI design and in general visual design. Furthermore, she is responsible for creating visual identities for any new project. She is actively involved in the design, direction and conceptualisation for the Erasmus+ programme's, known as eTwinning (Greek's National Support Service) and European School Radio.
Jay Imtyas
Creative Direction / Design / Animation
---
Jay has been living in Greece since his teens and originally moved from Bangladesh. He has been working as a graphic designer ever since he can remember. Graduated from University of Technology, Sydney with IT major however, pursued graphic design due to his passion for visual communication. Currently working as an Art Director at Fresh Idea advertising agency and his job includes among other responsibilities Packaging Design, Brand Identity, Ad campaigns, Print materials, Web Design.
Diagoras Vougas
Photographer
---
Diagoras was born back in 1993 in Patras City, GR. He studied at the Informatics and Telecommunications Engineering Department of the University of Western Macedonia. Proud Member of World Scout Movement and inspired by computers' revolution. His Thesis Project was about open data and how Cloud Services can work together with Open Knowledge principles. Loves music and doing activities in nature, especially cycling and hiking. He mostly captures landscapes at his hiking adventures and enjoys minimalism in the city through the lenses.